NUTRIGENOMIC CONSULTATIONS
If you would like a consultation with a health care practitioner to go over your Nutrition Genome Report along with blood work, family health history, personal health history and your goals, we highly recommend these Nutrition Genome Verified practitioners.
If you are a practitioner, and would like to be featured on our referral page, please learn more HERE for our approval process.
Read Bio | Contact
Contact: CLICK HERE
Kristie Howlett is a Nurse Practitioner who is the owner of Howlett Integrative Cancer Care PLLC, a telemedicine practice serving patients in California, Idaho and Nevada. In this role she is passionate about helping patients optimize their health during and after cancer treatment, develop further resilience for life and improve day to day functioning. Through a deep dive into health, she combines principles of integrative and functional medicine to find and highlight the possible underlying triggers and causes of symptoms, side effects of treatment and discomfort.  She has extensive experience working with cancer survivors and those who are focused on preventing cancer. 
She originally attended University of Nevada, Reno where she received a Bachelor of Science Degree in Nursing and working for eight yeas as a bedside nurse. She went on to pursue a Masters of Science from the University of California, San Francisco with a focus in Oncology Nursing. Allowing her to practice as an Oncology Clinical Nurse Specialist in both the inpatient and outpatient settings. She went on to complete a post-master's Nurse Practitioner Certificate in Adult-Geriatric Care from University of Massachusetts, Boston. She is Board Certified as an Adult Nurse Practitioner, maintains her Advanced Oncology Certified Nurse Practitioner Certification, and is licensed in the states of California, Idaho and Nevada.
Contact: CLICK HERE
Read Bio | Contact
Contact: CLICK HERE
Krisztina Baráth is a Medical Doctor graduating from the Semmelweis Medical University in Budapest, Hungary. 
After long years of activity as a neuroradiologist and head and neck radiologist in diverse universities and other institutes in Budapest (Hungary), Buffalo (NY, USA), Geneva (Switzerland) and Zurich (Switzerland), she placed her focus on clinical work following the "metabolic terrain approach to chronic diseases". She also holds a degree of Master of Advanced Studies in Nutrition&Health from the Federal Institute of Technology (ETH) in Zurich. 
She founded the clinic epigeniXzürich for regenerative medicine and biohacking in Zurich, aiming at treating chronic diseases and educating people on how to prevent disease and extend their health span, mainly by applying the science of epigenetics. 
She lives with her husband, three children and a golden retriever in Zurich and she enjoys the beautiful nature of Switzerland, corresponding to her belief in "Vis Medicatrix Naturae" (The healing power of nature, originally from Hippocrates).
Read Bio | Contact
Contact: CLICK HERE
Specialties: Pediatric Neurology and complex medical conditions relating to metabolic disease.
Dr. Pratt has worked with Traumatic Brain Injuries (TBI), Cerebral Palsy, PVL, Global Development Delay, Angelman Syndrome, learning difficulties (ADD, ADHD, and dyslexia), sensory processing disorders, autistic spectrum disorders, digestive system disorders/disease, endocrine disorders, autoimmune disease, and mood disorders.
Dr. Shelese Pratt believes in integrative and holistic medicine. Her practice and clinic are focused on pediatric neurology and complex medical conditions relating to metabolic disease. She uses functional medicine and her expertise in biochemistry (methylation) and physiology to help her patients get to the root cause of their symptoms through a strategic approach. In addition, she uses nutrition (diet and nutritional supplements), botanicals, environmental medicine, classical homeopathy and hydrotherapy in her practice, and prefers collaborating with other health care practitioners. Some of the complex cases she has treated include Traumatic Brain Injury (TBI), Cerebral Palsy, PVL, Global Development Delay, Angelman Syndrome, and several additional conditions.
Contact: CLICK HERE
Read Bio | Contact
Contact: CLICK HERE
Specialties: Women's health, endocrine and digestive disorders, allergies, genetics, and detoxification.
Dr. Jessica Siani is a California licensed naturopathic doctor. She currently has a general family practice in the Orange County area where in which she focuses on helping patients optimize health and overcome chronic illness. Her comprehensive medical training in both conventional and natural medicine allows Dr. Siani to provide her patients with many different options when it comes to their healthcare needs. Her treatment options focus on optimizing diet and nutritional status, exercise, sleep, and other lifestyle factors. She readily uses vitamin and mineral supplementation, IV nutrient therapy, herbal medicines, and pharmaceutical prescriptions when necessary. Her goal is to help patients move beyond symptom management, towards a state of health and well-being, by empowering them to be proactive participants in their care and make healthy decisions in their everyday lives. Dr. Siani holds special interest in women's health, endocrine, and digestive disorders, allergies, genetics, and detoxification.
Contact: CLICK HERE
Read Bio | Contact
Contact: CLICK HERE
Katie started her career in wellness in 2000, with the ambition and passion of helping individuals explore their health potential.  As her career and experience has progressed, she has learned and embraced the foundation that health is strongly tied to all dimensions of wellness. Therefore, she works with clients to help explore integrative and functional approaches to health in conjunction with clinical lab values and applies the information with education and practical application. Katie's approach is rooted in the belief that there is not one solution to everyone's health goals. Together, we will create a personalized roadmap to your ideal wellness.
Katie received her bachelors in science in applied nutrition from California Polytechnic in San Luis Obispo. She became a Registered Dietitian Nutritionist in 2010. She continued her education in integrative and functional nutrition with certifications from Integrative Functional Nutrition Academy, Institute of Integrated Nutrition and continued education courses with Institute of Functional Medicine, The SIBO Academy passions and specialties revolve around weight management, digestive health, food sensitivities, heart health, and preventive health.
Contact: CLICK HERE
Read Bio | Contact
Contact: CLICK HERE
Dr. Wdowin is a leading specialist in the field of Environmental Medicine and excels in clinical practice due to his expertise in:
· Combining dietary modifications
· Individualized medical testing
· Nutraceutical supplementation
· Depuration techniques
· Bioidentical hormone replacement
· Intravenous therapies
He is currently completing a fellowship in Antiaging and Regenerative Medicine.
Contact: CLICK HERE
Read Bio | Contact
Contact: CLICK HERE
Dr. Heather Wilde is a California licensed Naturopathic Medical Doctor and primary care physician.
She graduated with a Bachelor's degree in Neurobiology from Cornell University and received her Doctorate in Naturopathic Medicine from the Southwest College of Naturopathic Medicine. She is an accomplished diagnostician and practitioner, and a member of the Endocrinology Association of Naturopathic Physicians, the Restorative Medicine Association, and has studied with the leaders of the Environmental Medicine field.
Dr. Wilde has completely circumnavigated the planet with a backpack, hiked the Grand Canyon nine times, sailed down the Nile, and meditated in the queen's chamber of the great pyramid. She is a nature and animal lover, enjoys creating art, and organic gardening.
Contact: CLICK HERE
Read Bio | Contact
Contact: CLICK HERE
Specializing in Cancer 
Medical school: UC Davis, 1995
Residency, Internal Medicine:  Univ of Virginia, 1998
Fellowship, Hematology/Oncology: Mayo Clinic, Rochester, 2002
Board Certified: Medical Oncology, Palliative Care
Currently at Sutter Medical Group, Sacramento, CA Chair, Department of Oncology
Chair, Executive Committee Sutter Cancer Research Consortium.
I am currently also training in functional medicine.  I am very interested in bringing a functional approach to oncology patients- to get to the root cause of their illness and help them restore the best health possible.
Contact: CLICK HERE
Read Bio | Contact
Contact:
CLICK HERE
Dr. Jennifer Sosnowski chose her field because she loves interacting with people and sleuthing what's wrong with them. It's never the same day twice and, in functional medicine, it's never the same problem twice – a similar underlying cause can have a completely different overlying diagnosis.
She treats each patient as if they were a family member and tries to meet them at the level they need – nurturing, guiding, directing or focusing them as they need. She wants people to have the ultimate package in personalized, timely, accessible care. Her goal is to surpass the patient's ideals for excellent care and service, along with giving them the knowledge to keep themselves healthy and away from doctor's offices so they can enjoy living.
Credentials: Board-Certified: Family Practice (ABFM); Integrative & Holistic Medicine (ABiHM); Integrative Medicine (ABoIM); Certified Functional Medicine Practitioner (IFMCP), Fellow: American Academy of Family Physicians
Residency: Family Practice, University of Arizona, Tucson, AZ
MD: University of Massachusetts Medical School, Worcester, MA
BA: Johns Hopkins University, Baltimore, MD
Member: Institute for Functional Medicine, American College of Sports Medicine, Association of American Physicians and Surgeons, American Academy of Private Physicians, Arizona Academy of Family Physicians, Academy of Integrative Health and Medicine, Arizona Homeopathic and Integrative Medical Association
Contact: CLICK HERE
Read Bio | Contact
Contact: CLICK HERE
Dr. Gutierrez received her doctorate from Johns Hopkins University with a focus in translational medicine and integrative health. She is also a certified practitioner through the Institute of Functional Medicine.
Dr. Gutierrez received her masters degree in nursing from the University of Texas at Austin and is board-certified as a pediatric nurse practitioner and mental health specialist through the Pediatric Nursing Certification Board. She is the founder and co-owner of Neuronutrition Associates, a pediatric functional medicine practice in Austin, Texas.
Contact: CLICK HERE
Read Bio | Contact
Contact: CLICK HERE
Dr. Christine Maren is a Functional Medicine physician and the founder of a high-tech, innovative medical practice serving patients in Colorado, Michigan and Texas.
She is uniquely trained in the Functional Medicine model to identify and treat the root causes of chronic disease. Her approach to patient care is individualized and personalized, with an emphasis on the ways our environment, food and lifestyle choices interact with our genes.
She utilizes advanced lab testing to search for a root cause, and seeks the most gentle way to treat the underlying causes of disease. Dr. Maren is board-certified by the American Board of Family Medicine and is an Institute for Functional Medicine Certified Practitioner (IFMCP). She is a compassionate clinician, speaker, wife to a surgeon and mother of two beautiful children. Learn more at www.drchristinemaren.com.
Contact: CLICK HERE
Read Bio | Contact
Contact: CLICK HERE
Dr. Michael Diamond was born in Brooklyn, NY and received his B.S. degree in Athletic Training from Brooklyn College in 1984, his M.S. degree in Exercise Physiology from Western Illinois University in 1985 and his Doctor of Chiropractic degree from New York Chiropractic College in 1990. Dr. Diamond has practiced Alternative and Complementary health care since 1991 in Patchogue, New York City and the Hamptons.
He is a Diplomate, Fellow and Board Certified in Integrative Medicine from the American Association of Integrative Medicine, certified as a Holistic Health Counselor from the Institute of Integrative Nutrition and is a graduate of Functional Medicine University. He has, over the last 32 years, traveled extensively and trained with dozens of world experts in the fields of Nutrition and Dietary Supplementation, Thyroid Dysfunction, Adrenal Gland Fatigue, Autoimmune Disorders, Neurotransmitter Balance, Hormone Replacement Therapy, Genomics, Anti-Aging, Exercise Physiology and Personal Training.
He is a 1st degree Black Belt in American Jiu Jitsu, has studied Muay Thai kickboxing and Ashtanga Yoga and has been Medical Director for the Empire State Karate Nationals and Ringside Doctor for WPKO Pro/Am Kickboxing.
Dr. Diamond's areas of interest in Holistic Health Care are: rebuilding the body from the cellular level up, balancing the important biochemical pathways through the practice of evidence-based health care and functional medicine concepts, developing customized nutrition and weight loss programs, working with exercise specialists to improve body composition, studying the effects of neurotransmitter (serotonin, dopamine, norepinephrine, epinephrine, etc.) imbalances which create a cycle of abnormal eating patterns; i.e., binge eating, boredom eating, emotional eating and night eating, studying the effects of how mind-body techniques (prayer, meditation, and pranayama) alter human physiology and neuroelectrical activity.
Contact: CLICK HERE
Read Bio | Contact
Contact: CLICK HERE
Dr. Kristina Bosnar is a Canadian licensed Chiropractor and Certified Functional Medicine Practitioner. For the last 18 years she has owned a family care multidisciplinary practice with a specialized focus on prenatal and postpartum recovery care, and pediatrics.
She is board Certified from the Chiropractic Academy of Family Practice and is a member of the Institute for Functional Medicine where she has taken advanced training.
Dr. Bosnar believes in a personalized, integrative and holistic approach to care that includes the patient as partner in their own health journey.  She uses state of the art functional laboratory testing to uncover the root cause of her patients' conditions, with an emphasis on the influence of lifestyle, nutrition and environment on genetic expression.
Dr. Bosnar has advanced training in Clinical Nutrigenomics and Methylation, and believes that health manifests through a balance of nutrition, environment, community, spirituality and physical movement.
Dr. Bosnar special interests are prenatal and postpartum recovery care, and pediatric care as well as autoimmunity, digestive and endocrine disorders, genetics and detoxification.
Contact: CLICK HERE
Read Bio | Contact
Contact:
CLICK HERE
Loula George is a registered naturopath and medical herbalist specialising in women's health, fertility and genetic profiling. She has had over 25 years of experience.
Loula supports women with their general and reproductive health from menarche to menopause and beyond.
She is very passionate about natural fertility and preconception health. Loula guides people through a preconception health programme which is designed to increase the chances of conceiving a healthy child for those who are either having problems conceiving or having recurrent miscarriages. However, it is also for people who have no fertility issues but would like to prepare for a healthy pregnancy to ensure the best start to their baby's life.
Loula's work in genetic profiling is a very useful tool when looking at fertility. DNA testing offers a chance to fine tune dietary and lifestyle choices to optimise your own health and thus pass on a stronger, healthier genetic imprint to your children and possibly your grandchildren.
Loula is also involved in teaching and mentoring and runs public health seminars in the community.
Contact: CLICK HERE
Read Bio | Contact
Contact: CLICK HERE
Reshma's vision has optimized her 18 years of diverse experience in traditional medicine and integrative medicine to heal and balance her client's health.  Notably educated with a B.S. degree in Biological Sciences from UC Irvine, and earning a Master's degree in Medical Science at St. Louis University, Reshma also holds a degree as a Physician's Assistant.
Reshma is integrating her medical career with a mind-body holistic approach to health, wellness, and healing.  It is her philosophy that the body has an amazing capacity to heal itself.  She also believes (see her website for additional insight) that traditional medicine focuses on treating the symptoms of disease primarily with prescription drugs with serious side effects, etc. without treating the root cause of the illness.  The integrative approach Reshma practices at Ananda Integrative Medicine specializes in Nutrition Genomics (understanding how the whole body responds to food), Pharmacogenomics (how genes affect a person's response to drugs), Precision Medicine, Detoxification, Anti-Aging, Restorative Medicine and Nutrition.
Reshma's goal and mission at Ananda Integrative Medicine is to educate, empower and provide her clients with an alternative health experience.  She is successfully accomplishing this by utilizing her years of "hands-on" traditional medical experience and blending her knowledge of holistic focused treatment. 
Reshma's treatment methodology is based on her expert knowledge of medicine, biology, mind, body, and nutrition for a holistic balancing and healing of the body.   The results of her innovative holistic treatment focused on identifying the cause & treating the "root cause" to heal, manifests itself in a vibrant and healthier YOU.
Contact: CLICK HERE
Read Bio | Contact
Contact: CLICK HERE
Alex is an Ontario licensed Nurse Practitioner, Certified Functional Medicine Practitioner, Personal Trainer and Health Coach.  Her journey to Functional Medicine began when she was searching for a better answer for her client's complex health needs and also her own health struggles.
Once learning about Functional Medicine it has become a passionate truth and lifestyle for Alex.  The approach of empowering one's health by identifying the root cause that sometimes is not obvious at first. She recognizes that the body cannot be divided into systems when caring for complex health conditions such as autoimmune disease or metabolic syndrome, but rather look at how one imbalance affects everything, and the longer it remains unbalanced the more likely another area of the body will soon start to be impacted and unbalanced.
Alex is now on a mission to help as many people as she can to overcome their own health burdens and conditions and transform their lives.  The discovery of the power of Functional Medicine helped her when struggling with her own health issues when there were no answers in traditional places. It is that faith in the process that has given passion to helping others be their own warriors for health and believe there is more to managing and overcoming health than medications alone.
Areas of interest include hormone balancing, metabolic syndrome, autoimmune disorders, skin disorders and epigenetics.
Contact: CLICK HERE
Read Bio | Contact
Contact: CLICK HERE
Specialties: Gastrointestinal Health (IBS/IBD), Food Sensitivities/Intolerances, Metabolic & Heart Health, Weight Management, Hormonal Imbalances
As a functional medicine nutritionist, Eileen Schutte's passion is working with clients developing a truly personalized nutritional approach to heal and promote optimal health.  Her passion for nutrition has grown over the years as nutritional science and nutrigenomics has continued to develop into the science of personalized medicine and nutrition.  Notably educated with a M.S. degree in Functional Nutrition from the University of Bridgeport graduating summa cum laude.  With her love of nutritional science, she continues to educate herself and has earned the certification in Functional Medicine Nutrition which included studies in nutrigenomics.
To provide a fully holistic approach to health, wellness and healing, Eileen has taken courses in Culinary Nutrigenomics and earned her Advanced Certification in Culinary Nutrigenomics helping her clients to bring nutrition to the plate with ease.  The focus of culinary nutrigenomics has helped her clients to achieve their health and wellness goals while educating them on how they can truly speak to their genes through nutrition.
Her interest and passion in nutrigenomics grew over the years after seeing so many of clients struggling with conditions, including herself, that there just didn't seem to have any answers especially from conventional medicine.  When she discovers that so many of her health concerns including histamine intolerance and hormonal imbalances were related to her genes, she became even more passionate in helping her clients over health conditions that were related to their genomics.  Most of Eileen's clients have come to her with health conditions including autoimmune, osteoporosis, gastrointestinal conditions, hormonal imbalances, weight management and mental health concerns.  Nutrigenomics has offered her the final piece in the puzzle in developing truly personalized nutrition plans helping her clients achieve their health goals.
Her business name is Unique Nutrition Solutions located in Deforest, WI, where her practice provides truly unique solutions using nutrition, therapeutic diets, targeted supplementation and lifestyle coaching.  She offers virtual consulting through a HIPPA compliant platform allowing her clients to book consults in the comfort of their homes.
Contact: CLICK HERE
Read Bio | Contact
Contact: CLICK HERE
Zoe is a functional medicine nutritionist and licensed mental health counselor. In addition to graduate degrees in human nutrition/functional medicine, and mental health counseling, she has completed post-graduate certification in nutritional psychology. This unique combination of education in both nutrition and psychology allows her to use a mind-body approach in a deeply integrated way. 
Combining the psychological, biological, genetic, social, and spiritual components of human experience, the functional medicine framework affords us a much fuller understanding of symptoms as well as illuminating clearer paths towards wellness, even in the presence of chronic conditions. Using a caring, positive, self-embracing approach, Zoe emphasizes curiosity instead of judgment when working with an individual on nutrition and other epigenetic interventions to optimize health. She believes a balance of compassion and honesty is essential for us to reach a new level of wellness and transform how we see ourselves. Wherever you are on your path, and no matter how many paths you have tried before, Zoe is honored to support you in your efforts towards a fuller, healthier life.
Contact: CLICK HERE
Read Bio | Contact
Contact: CLICK HERE
With nearly two decades of experience and education in the Holistic and Clinical Nutrition field, Jen is a wealth of knowledge she brings to inspire and connect with her clients. Jen received her BS in Food science, Human Nutrition and Dietetics from Colorado State University. After pausing in her pursuit of a Naturopathic degree, Jen completed her Masters in Holistic Nutrition and Sports Nutrition, the Nutrition Genome Practitioner certification,  as well as her 250 hour Oncology Nutrition Consulting Certification – the program developed by Jess Higgins Kelley and other experts in the field of Oncology Nutrition. Her knowledge of metabolic nutrition is unsurpassed in the field, as she is also a certified Metabolic Balance® coach, which is a sophisticated nutrition system based on client's blood values and unique health profile. It was founded by Dr. Wolf Funfack and originated in 2002 in  Munich, Germany.  Jen has also trained alongside many experts in the field of metabolic nutrition including Dr. Nasha Winters, Miriam Kalamian and Alison Gannet.
Working with Jen, you will feel empowered to make life-long positive changes and you'll be supported every step of the way. A passion for nutrition and cancer runs deep for Jen and using the healing power of food with an individualized approach is at the core of her focus. Jen is experienced in several dietary therapies such as the therapeutic ketogenic diet, paleo for autoimmune disorders, metabolic and hormone balancing plans. Nutrient density and the use of high quality whole food is the backbone of any of her approaches, and as an approved Nutrition Genome Practitioner she customizes nutrition plans based on the unique genetics of her clients. Jen's advice is practical, easy to understand and manageable. Jen understands there is not a once size fits all nutrition plan for everyone. You are guaranteed to be met where you are and will learn a tremendous amount. Jen is a big proponent of the power of mind and emotional wellbeing for health so food won't be the only topic of conversation!
Jen grew up in the Midwest and found the majestic mountain town of Crested Butte, Colorado in her early twenties and made it her home. Jen is an avid mountain biker, trail runner, skier and mom. Family, friends and time spent adventuring outdoors is what brings her joy along with bonding with her clients, studying about health and experimenting in the kitchen. 
Contact: CLICK HERE
Read Bio | Contact
Contact: CLICK HERE
Jonathan Carp, MD is a board-certified, award-winning clinical dermatologist with a comprehensive, well-rounded background working in general practice. He has extensive experience and expertise in all aspects of dermatology, with a special interest in lifestyle functional management of autoimmune disease. He is also a health coach and has helped thousands of people to lose weight through his company Miracle Noodle. He has a special coaching program for people interested in fasting and nutrition for which he utilizes nutrigenomics.
Dr. Carp received an undergraduate degree from Rutgers University, where he was accepted into a combined BA/MD program which enabled him to start medical school during his 3rd year of college. After completing an internship in Internal Medicine at Rutgers, Dr. Carp went on to complete a dermatology residency at State University of New York at Buffalo.
"My father is also a doctor. When I was 6 or 7, I would carry his big black doctor's bag for him on house calls driving up old country roads. I thought there was magic in that bag because he made people smile and feel better. I still carry that sense of wonder with me as I see patients."
Dr. Carp's distinguished track record includes serving four years as Chief of Dermatology for a prominent California medical group, supervising nine dermatologists, two Mohs surgeons and an ancillary staff of forty five; and receiving the Outstanding Clinical Dermatologist Merit award for three consecutive years.
Dr. Carp has a special interest in helping patients take more control over their own health, by educating them about how skin disease is related to, and often a sign of, internal medical problems. In particular, he is interested in applying a functional medicine approach to health conditions and is responsible for helping many people overcome chronic diseases of all types.
Contact: CLICK HERE
Read Bio | Contact
Contact: CLICK HERE
Dr.
Alicia
Viafore is a Doctor of Chiropractic, practicing in the foothills of the beautiful Catskill Mountains in Delaware County, NY, since 2008. As an Herbal Fellow for the AARM, she is also trained in medicinal use of herbs and herbal products. In addition to comprehensive chiropractic care available at office locations in Delhi, NY, and Walton, NY, Dr. Viafore offers* remote nutritional and herbal consultations. Taking advantage of cutting edge research in epigenetics, she utilizes NutritionGenome results to guide patients on their health restoration and wellness journeys and to help them improve their health outcomes in new and better ways. A focus on real food and botanical medicine helps address a plethora of health concerns using gentle, synergistic and natural protocols. As a chiropractor, Dr. Viafore addresses biomechanics and ergonomics for joint and spinal health to include movement as an integral component of nutrition and detoxification. She has experience in pediatrics, women's health, autoimmune conditions, detoxification, sports/athletic performance and weight management.
She is also the wife of a chiropractor, and mother to three young boys and a couple of labradors. She enjoys
 hiking, gardening, preparing real food and attending her sons' many wrestling tournaments.
Contact: CLICK HERE
Read Bio | Contact
Contact: CLICK HERE
Specializing in functional and forensic nutrition for over 20 years, Kameo applies her expertise in dietetics, functional medicine, and culinary nutrition to identify underlying drivers of metabolic dysfunction and disease. She works with her clients to correct imbalances through Easy-ScratchÆ meal planning, nutraceutical support, and epigenetic modulation. She is a registered dietitian nutritionist with an undergraduate degree in Dietetics from the University of California, Davis and holds a Master's Degree in Public Health/Nutrition from Liberty University. She has completed the Institute of Functional Medicine Advanced Practice Modules and attended Cogence Functional Immunology course to gain greater insight into the delicate relationship between digestive disorders and immune health. She holds certifications in Culinary Nutrition, Integrative and Functional Nutrition, and Adult Weight Management from the Academy of Nutrition and Dietetics. She is a LEAP (Lifestyle, Eating and Performance) therapist and certified Wellness Culture Coach. While acting as chief of the Outpatient Nutrition Clinic at David Grant Medical Center she held a master trainer certification for National Diabetes Prevention Program (DPP) and was instrumental in launching multiple research initiates investigating the relationship among food, lifestyle behavior, diabetes, and cardiovascular disease. Formally she worked as an adjunct professor at the Culinary Institute of Virginia and currently teaches clinical nutrition at Old Dominion University, School of Nursing. In 2017, Kameo founded Cookin' up FitnessTM where she puts the FUN in FORK and the HAPPY in HEALTHY guiding clients toward health restoration emphasizing a food first approach to therapy.
Contact: CLICK HERE
Read Bio | Contact
Contact: CLICK HERE
Dr. Deepti Sadhwani is internationally known in the medical community for her education, experience, and proven strategies to optimize patient wellness. A physician scientist at heart, Dr. Sadhwani has spent nearly the last two decades dedicated to evidence-based wellness and the positive outcomes patients experience resulting from this transition from conventional to integrative medicine. Dr. Sadhwani is now focused on creating a healthier community through cutting edge nutrigenomic and epigenomic research and testing.
For executives and patients needing more convenient medical services, Dr. Sadhwani also offers concierge medicine through Radiant Concierge LLC. For patients struggling with obesity related to dietary issues, she created the Lifestyle by Dr. Deepti line of precision nutrition and supplement products to facilitate weight loss, inflammation control, and movement toward eliminating a need for the band-aid approach of prescription medication.
An active leader in her local community, Dr. Sadhwani was recognized with dual awards from the Junior League of Indian River in 2015 as both Woman of the Year and Business Professional of the Year. Dr. Sadhwani is Board Certified with the American Board of Internal Medicine, a Diplomate of Bariatric Medicine, affiliated with the American Medical Association and American College of Physicians, and spent 10 years early in her career as an OB/GYN with expertise in Polycystic Ovarian Syndrome (PCOS). The Sadhwani family has called Indian River County home since 1998; their daughter, Dr. Divya Haryani, recently opened a local practice specializing in Dermatology.
Contact: CLICK HERE
Read Bio | Contact
Contact: CLICK HERE
Dr. Suhaila is an expert in Integrative cancer care. She uses Naturopathic and Functional Medicine to provide her patients with truly individualized and personalized plans to support, nourish, and

 

create an environment in the body where cancer is less likely to flourish. Dr. Suhaila is also a facilitator of Compassionate Inquiry, a psychotherapeutic approach developed by Dr. Gabor Mate. She works with clients worldwide via telemedicine.
Contact: CLICK HERE
Read Bio | Contact
Contact: CLICK HERE
Deanna Mautz, BSN RN is a Nurse Consultant, cannabis advocate and educator. She teaches patients how to utilize nutrition and Cannabis to invoke the power of self-healing.
Deanna has been a Registered Nurse for 13 year, working in Emergency Medicine, Urgent Care, and Public Health. After a family member's diagnosis of cancer, she began researching and utilizing cannabis as medicine.
Combining her love for health, her experience working in the clinical setting, continuing education courses, and personal experiences she began consulting to guide clients to optimize wellness outcomes.
Now she is making it her life's work to help more people to invoke self-healing through integrative options to include nutrigenomics and cannabis as medicine.
"The greatest part of being a nurse is being able to educate and empower others to take control of their own health, and to be a part of their journey", says Deanna.
Contact: CLICK HERE
Read Bio | Contact
Contact: CLICK HERE
Jess is a Master Nutrition Therapist, Oncology Nutrition Consultant, teacher, writer, and nutrition education program developer.
An Oncology Nutrition Consultant for over a decade, Jess has extensive experience working with cancer and chronic illness clients from around the globe.
She is also the co-author of two books, The Metabolic Approach to Cancer: Integrating Deep Nutrition, the Ketogenic Diet, and Nontoxic Bio-Individualized Therapies (Chelsea Green Publishing, May 2017) and Bioregulatory Medicine: An Innovative Holistic Approach to Self-Healing (Chelsea Green Publishing, November 2018).
Jess is the Founder and Director at the Oncology Nutrition Institute which provides online certification programs for professionals and education for the public in therapeutic metabolic nutrition.
An avid researcher and student, Jess has completed continuing education certifications in Environmental Medicine through the University of Arizona Medical School, Endocrinology and Blood Chemistry Analysis through Apex Energetics, and Methylation and Clinical Nutrigenomics through Bastyr University.
Jess was an instructor at the Nutrition Therapy Institute in Denver, Colorado from 2011-2017 and believes strongly in empowerment through education.
​
She holds a B.A. in Journalism from Western Colorado University and has written health and nutrition articles for a variety of local and national publications including Powder, Ski, Skiing, Breast Cancer Wellness and is the former managing editor of Edible Southwest Magazine.
A former sea captain and lead Hurricane Island Outward Bound Sailing Instructor, Jess strongly believes in physical activity and spending as much time as possible outdoors connecting with nature. When not writing, teaching, or consulting with clients, Jess is trail running, skiing, surfing, sailing, doing yoga, gardening or spending time with her family.
Contact: CLICK HERE
Read Bio | Contact
Contact: CLICK HERE
Sheridan Genrich is both a clinical nutritionist & naturopath (BHSc) in Brisbane, Australia.
She's completed extensive post graduate education in Nutrigenomics (how nutrients impact our DNA) and functional medicine.
For more than thirteen years, she's been helping busy people live life with energy & ease by correcting the nutrient, hormone or genetic imbalances that many people don't realise are underlying their symptoms.
As someone passionate about ancestral approaches, she values using the benefits from technological advancements in genetic testing to help patients create faster results. identify their unique dietary or emotional triggers.
Since 2016, she's seen patients are more motivated with clearer focus areas & personalised plans interpreted from their DNA results.
The best lifestyle habits are now easier and creating delicious food alternatives can be fun.
Sheridan's currently writing a non-fiction book on DNA Powered Health (due out end of 2022).
Or follow Sheridan on Instagram
@better_brain_health
Contact: CLICK HERE
Practitioner Referral Program
 Get featured on our website as a Nutrition Genome recommended practitioner.
Our recommended practitioners are featured on the "Find A Practitioner" page of our website. This referral program has proved highly beneficial to our customers in finding further guidance to optimize their results and for our practitioners listed to receive new clients to their practice without any outreach needed on their part.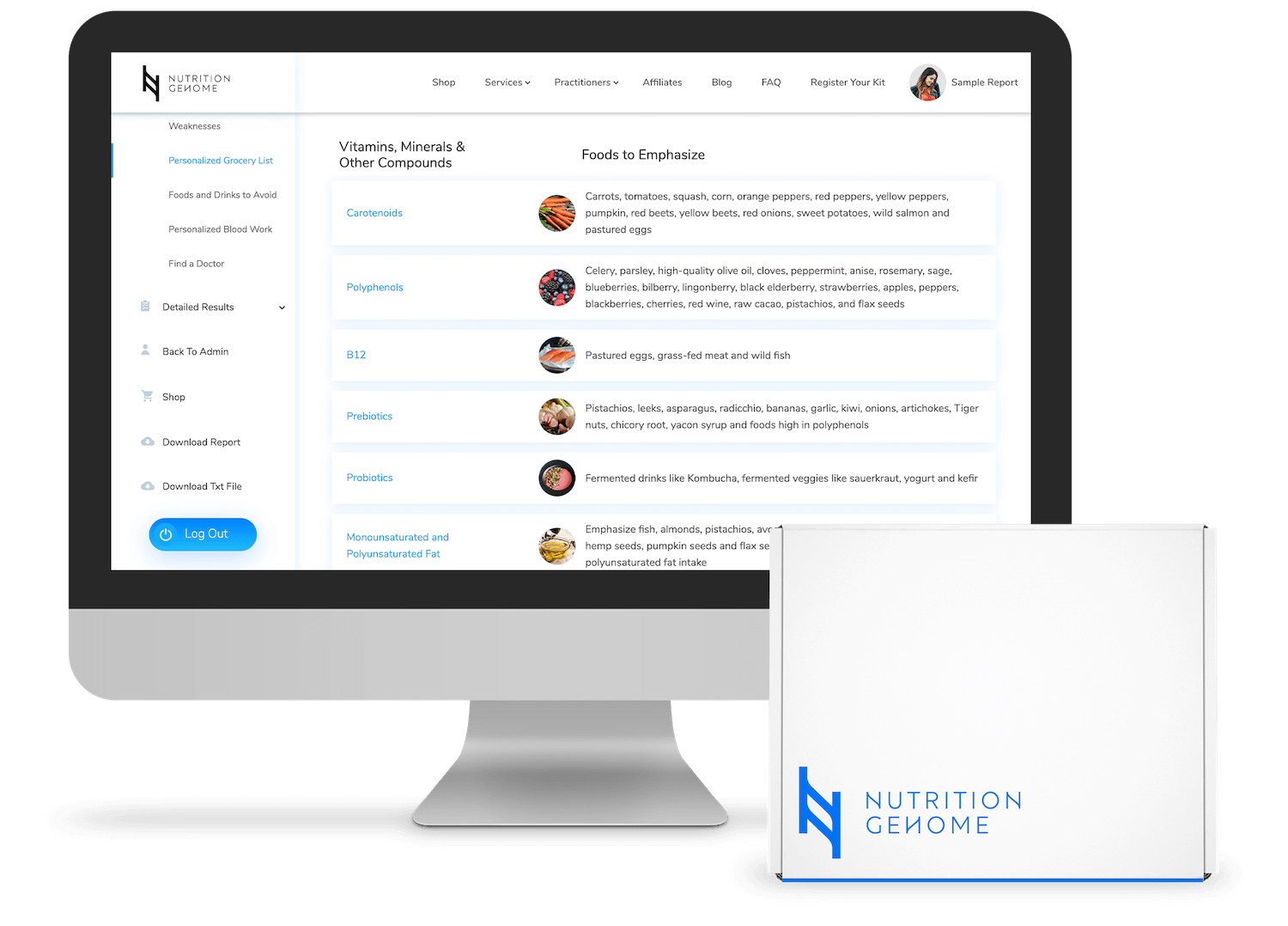 WHAT ARE YOU WAITING FOR?